Ok folks, have you heard about the Oliver + S Little Things to Sew Along happening over at A Little Gray? Woo hoo! I was excited for a few reasons.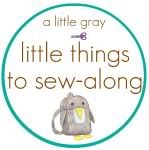 I already own the book. Love it, but I hadn't even unsticky glued the pattern pages from the cover yet. I really needed a kick in the butt to get started.
I love Jessica's blog. I like her sewing and am always in awe over her modern fabric choices. I was a tiny bit sad when she announced a little break last month but boy oh boy. She didn't just return she's made a major comeback with this project!
I've never participated in a sew along before and I love a challenge. It's going to be so fun to see how everybody's projects turn out.
This month is the bucket hat. Cute and necessary. My kids wear them everyday of the summer (especially with Loo's
summer hairdo.)
I faced another sewing fear and marched up to the fabric store counter to buy interfacing. Not so scary at all, once I got past the gauntlet of choices, iron on, sew on, what colour, weight, how much etc. I made Beri's reversible and followed Jessica's instructions so I wouldn't have to do any hand sewing. Genious.
Loo saw it and wanted one immediately. He also wanted one made with "prickly" fabric like Beri's but I think I appeased him with "campers" instead.
I thought since the first hat went okay I'd follow the books directions for the second, but by the time I got to the handstiching part I was way too impatient and just serged it all together. When Loo saw it yesterday morning he handed it back to me and asked me to finish it. Seriously?
Now I'm trying to pick out a fabric for next months back pack that will make Loo happy. He already uses a Batman backpack and cartoon licenced clothing, accessories and especially sheets and blankets make me cringe. Will I be able to find something "cool" enough to get him to leave Batman at home?